By: Sebastian R. Freiku, Kumasi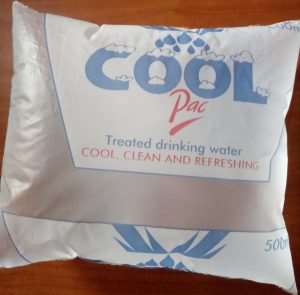 It is now evident that Cool Pac sachet water, the 29 percent sachet water consuming public patronise, might have been produced by one of numerous sachet water producing companies in the country.
All Cool Pac sachet water bagged in Voltic branded bags are not produced by one single company, and, therefore, choice, as a right of the consumer, has thus been thrown to the dogs.
Discreet Chronicle investigations indicate that about 19 and more companies are producing 500 ml Cool Pac sachet water under the authority of Voltic Ghana Limited in the Ashanti regional capital alone.
The said manufacturing companies are said to be operating under a franchise obtained from Voltic under the nose of Food and Drugs Authority (FDA), which has duly approved such deceitful productions.
The Foods and Drugs Authority (FDA), which is the regulatory body mandated by the Public Health Act to regulate the safety of food and drugs and others, has indicated that it has insufficient officers to conduct regular checks on sachet water producers.
The Chronicle has evidence that the franchised companies are producing 500 ml Cool Pac sachet water and bagged in Voltic branded receptacles for marketing and distribution in the metropolis.
Indications are that any Cool Pac sachet water a consumer buys is produced by one of the over 700 sachet water producers in the Ashanti Region under a Ghana Voltic Company franchise, and not necessarily coming from the plants of Voltic Ghana Company.
Consumers, who drew the attention of The Chronicle to the seeming deceit by Voltic Ghana Limited, said companies, which bag their products in in bags marked Voltic Cool Pac, have called on the Food and Drugs Authority (FDA) to take immediate steps to correct the anomaly, or face legal action for overseeing such deception at the expense of the health of the public.
"It is unthinkable for one product (Cool Pac sachet water with same branding and labeling) to be produced by as many as 20 companies under the authority and approval of Ghana Voltic Company and FDA respectively," aggrieved Mrs. Belinda Fob, a business woman in Kumasi, complained.  She intends taking action against the FDA soon.
Source: modernghana.com