By: Gordon Offin-Amaniampong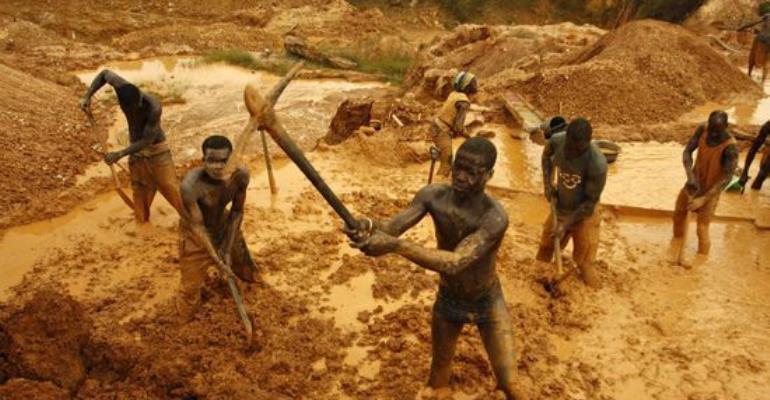 Gordon Offin-Amaniampong examines
What did our governments clamp down in the past and were able to sustain it?
Is it illegal logging by loggers? Is it squatters at Sodom and Gomorrah or those around Kwame Nkrumah Circle in Accra? Is it power cheaters who indulge in illegal power connection? Is it cocoa smuggling in our country's borders by smugglers? Is it vigilante groups who're constantly terrorising people? Is it the activities of land guards? Or is it middle-men who swindle prospective travelers trying to obtain passports?
The irony is that all of them have bounced back—operating vigorously. Their activities seemed emboldened! Inhabitants of Ghana's biggest slum, Sodom and Gomorrah are back: They're back to where city authorities evicted them from, less than two years ago. The squatters and hawkers are also back in the streets.
And the key argument hasn't changed: they must earn their daily bread. The Kwame Nkrumah Interchange Area which not too long ago had a make-over is relapsing —going back to its ugly and insane state. In fact, on Wednesday some hawkers held placards amidst inscriptions like this: "We won't leave this area today or tomorrow."
The stubborn amongst them all is illegal mining operators also known as 'Galamsey 'in Ghana. Their activities in recent times have reached an alarming proportion. No doubt about that, they've stepped up their game. This followed the influx of the Chinese. I recall awhile back government deported number Chinese citizens who were in the country illegally.
Today, they're back in their numbers. And together with Ghanaians they're degrading and destroying our ecosystem. They're poisoning and exterminating our water bodies. Our vegetation covers have been laid bare—raped and left naked.
They're creating man-holes, producing sinkholes and setting up deathtraps. They're as dangerous as explosive mines. Over the last 10 years it appears the operators have sworn an oath– basically to launch a deadly onslaught to our very existence.
Is this the land of our birth? Is this the land we swore to protect? Is this the land (the greenbelt) our forebears bequeathed us? Where did our leaders go? Where are they?
And whether it's legal or illegal Galamsey has come to stay. That sounds crude or rather rude. But it's the hard truth. Galamsey isn't going anywhere at least not for now. Maybe not until the lands have run out of those much-sought-after minerals. Until the gourd is down empty or tanked the drunk knows no stop.
Backed by invisible hands they have succeeded in growing not an ordinary roots but giant roots, making it hard for authorities to deal with them.
But what is Illegal mining?
Writer Phillipe Dozolme defines illegal mining as: "The absence of land rights, mining licence, exploration or mineral transportation permit or of any document that could legitimise the on-going operations."
It can be operated on the surface (open cast) or underground. It's illegal because in most countries underground mineral resources belong to the state. The latter applies to Ghana too, but Galamsey has trespassed that. I must note there'd been crack downs on illegal mining in the past but all to no avail.
Question is: Are we at our wit end?
The Minister of Lands and Natural Resources John Peter Amewu announced recently that he'd placed a moratorium on licences for small-scale mining. This is part of activities to halt illegal mining operation in the country. The move, the sector minister also indicated was to help ensure saneness in the environment.
"I have not signed a single small-scale-mining licence, since I assumed office. This is an attempt to sanitise the system," Mr. Amewu said.
Indeed Ghana is fighting an undying witch. We've picked up a fight which portends to be a lifetime battle. You may not like the way I've put it but that's the reality on the ground. I normally don't say things like that. I am a man full of hope, full of aspiration. I am an optimist and not pessimist.
Obviously, the conditions on the ground leaves one to wonder whether our governments had been waging these fights with kid's gloves or they'd condoned and connived with the operators or they didn't have long-term strategies or plans to do so. It could be that we're at our wit end.
Remember the father who brought his demon-possessed son (Mark 9:14-29) to Jesus' disciples to be healed? They'd no idea what to do and how to fight the demon. They lacked the firepower. Bottom-line they couldn't do it. Jesus rebuked them after healing the boy.
I felt I had been wounded twice or three times this past few days. The images I saw—the photos and the videos on social media platforms grieved my heart. I couldn't understand what's going on. I struggled to make sense out of all that–the degrading state of our ecosystem is so graphic. It looks so atrocious so horrible and so terrible.
The activities of these miners are out of hand. Sad though, we have to come this far to realise that we're losing or have lost something that is so precious. It's so sad our leaders couldn't stop it at its nascent stage. It seems to me it was business as usual and politics at its best. It seems to me they went to sleep whilst the busy bees got busy to degrade, to destroy tad to pillage that which our forebears fought graciously to possess and passed it on. And perhaps what's left now is misery and hopelessness.
World Bank report on Ghana had indicated, by the end of 1995 the total hectares of the land destroyed through the activities of Galamsey were approximately 150,000 hectares. That was then, over 20 years on the acclivities of illegal mining have picked up like never before .Thus your guess could be my best bet.
Between 1994 and 2001 a study discovered that there were five major cyanide spillages and leakages. Five rivers in the Prestea area in the western region of Ghana suffered greatly'.
Last March, Minister of Environment Science and Technology Dr. Frimpong Boateng kind of raised the threat level. Whilst meeting staff of the Environment Protection Agency (EPA) during a working a visit in Accra Dr. Boateng hinted that our water bodies were under siege. He said the country risk losing the very existence of these precious water bodies if radical steps are not taken to resuscitate their lives.
"We know that our rivers are dead, some of them …Some of the rivers are dead—Offin, Ankobra, Pra, Oda, there's no fish in them, in most part of the rivers. And when you find animals and fish dying from our empty forests and dead rivers it is only a question of time that it will reach the human beings," Dr. Boateng said.
According to the sector minister if we don't change our negative practices we would literally kill these rivers prematurely. "We have to change our attitudes there must be a change like President Akufo-Addo said. We should not be spectators but be active participants."
"If you look at what is happening to the environment, it is something like a self-inflicted injury
Certainly the danger has become imminent, so disturbing that if stringent measures are not taken we would end up as sore losers. The country that once boasted of its virgin forests, safe water bodies, rich soils, beautiful vegetation, and the picturesque landscape is gradually losing it all by the day. The ecological damage has been great.
Bittersweet
In Africa, Ghana is the second largest gold producer contributing to about 5.7 per cent of the country's GDP. And the activities of illegal mining have tremendously contributed to the growth of the economy. The jobless youth have found jobs, crime rate has gone down. However the environmental impact of their activities is unparalleled. Galamsey depletes environmental resources such as water; soil, landscape, vegetation, the ecosystem among others.
Also lives had been lost over the period and we're still losing lives. In November 2009 a collapsed occurred in an illegal mine in Dompoase in either Ashanti/Western region. At least 18 workers were killed including 13 women who worked as porters for the miners. A similar incident occurred at Kyekyewere near Dunkwa-on-Offin in the Central region.
Solution
Perhaps the solution to this cancerous problem rests in the bosom of the new administration's 'One-District-One-Factory across country mantra. It's a long term project, but if implemented they would go a long to help bring the activities of illegal mining down. Remember, when there was Aboso Glass Factory, when there was Kumasi Jute Factory there was no Galamsey but there was gold. When there was Nsawam Cannery Factory, the Komenda Sugar Factory there was no Galamsey gold was there. When there was the Bonsa Tyre Factory, the Bolga Meat Factory and the Tomato Factory at Wenchi there was no Galamsey but there was gold.
As a people our problem has always been not providing alternative measures. And not being proactive but reactive. You don't evict the Sodomites and the Gomorrahites if you haven't made any provisions for them. Then when you provide the alternative, ensure the laws are implemented to the letter. That's the way to go…Don't blame me, if you can't make the dogs bark and bite.
Source: modernghana.com