By: I.F. Joe Awuah Jnr., Kumasi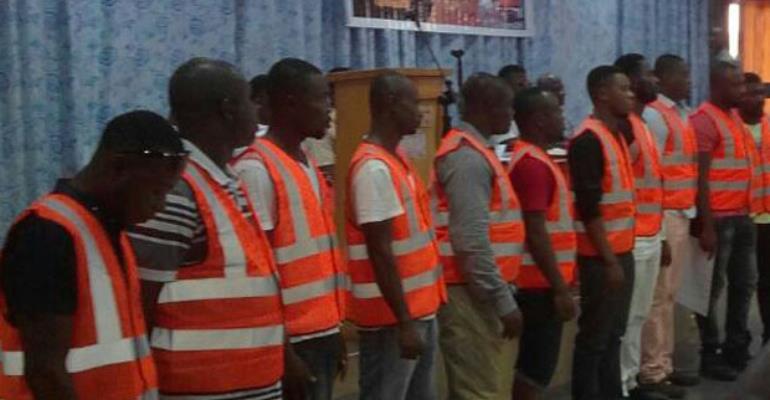 Some members of the anti-Galamsey taskforce during the swearing in ceremony
From all indications illegal mining, also known as 'galamsey,' would end once-and-for-all in the Ashanti Region following the inauguration of a 15-member taskforce.
The move is to support government's fight against illegal mining to forestall the destruction of the environment.
The Ashanti Regional Chapter of the Ghana National Association of Small Scale Miners formed the taskforce made up of energetic men.
The taskforce has been charged to monitor the activities of illegal miners in the region.
The small-scale miners, who have declared war on illegal mining, have started another project christened 'Operation Cover 2 Acres.'
Under the project, each member of the association would reclaim at least two acres of land destroyed through 'galamsey' in their catchment area.
Frank Osei, interim executive member of the association, stated that his outfit was determined to support government to effectively tackle illegal mining.
He observed that illegal mining activities rapidly destroy the environment, urging all small-scale miners to join the fight against the menace.
According to him, their open fight against illegal mining is to show to government that small-scale miners abhor 'galamsey.'
Mr. Osei expressed hope that within the next three months, the taskforce would help reclaim vast lands damaged by the illegal miners.
He noted that the taskforce would officially work with the various assemblies in the region.
Mr. Osei also commended President Akufo-Addo's decision to stop illegal mining in the country and urged all and sundry to support him.
Source: modernghana.com